2017 Speech Season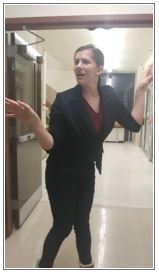 This speech season has been one filled with moments of pure happiness, disappointment, and hope. As the season progressed, I noticed my speech students growing, and I don't think they realized how much they were growing.
My squirrely freshmen boys reminded me to have patience because the prettiest of flowers need cultivation. And I'll tell you what. I was dumping as much water onto those boys as I possibly could. Their hard work paid off. They got better. I'm sure they were tired of me saying the same thing over and over and over and over again by the end of season.
My sophomore girls beefed up their game this year. Abby and Brooke participated last year, so they had a little experience. Their piece was a tough one because it dealt with a serious issue that many people face today. They found success early on in JV, but struggled when they went to varsity. It was tough. Northeast Nebraska has some of the best speech teams in the state. Nevertheless, they persisted, and in time, they found themselves competing at the same level of these top-notch, tradition-focused teams. Abbi Holz was brand new to the team this year. She jumped right in, head first. I was proud of her work ethic. Having never performed or publicly spoken before this, she gave her best. After districts, she made me smile because she talked about next year, and the possible speeches she would compete with. In fact, she mentioned having them done and ready to go before the next season even began. I admire that.
All of this leads me to my senior, Ashley Guenther. For the past two years, Ashley has shown me what tenacity and integrity really mean. Last year, she made it to state and placed. This year, she made it to state but found herself just below the line in 7th. She didn't make finals, and I could tell it hurt her because she wanted so badly to do better than last year. This speech season was a tough one. She may not have brought home a medal, but in my book, she is gold. I am extremely proud of her and cannot wait to see what she does in the future.
Speech is difficult. On average, you are spending 25 hours outside of school each week working on and competing with a speech you have worked tirelessly over. You spend eight Saturdays with your team, and sometimes, they will get on your nerves. But, in the end, we became a family. One that cheered on each other's accomplishments and felt each other's pain. We have grown this year. We doubled the number of events, added new speakers, and began a new tradition. I cannot wait to see what next year brings. While we may be losing Ashley, I hope to gain a few new speakers next year. So, 8th graders think about it. Even if you are scared, try it. Who knows. You may like it.